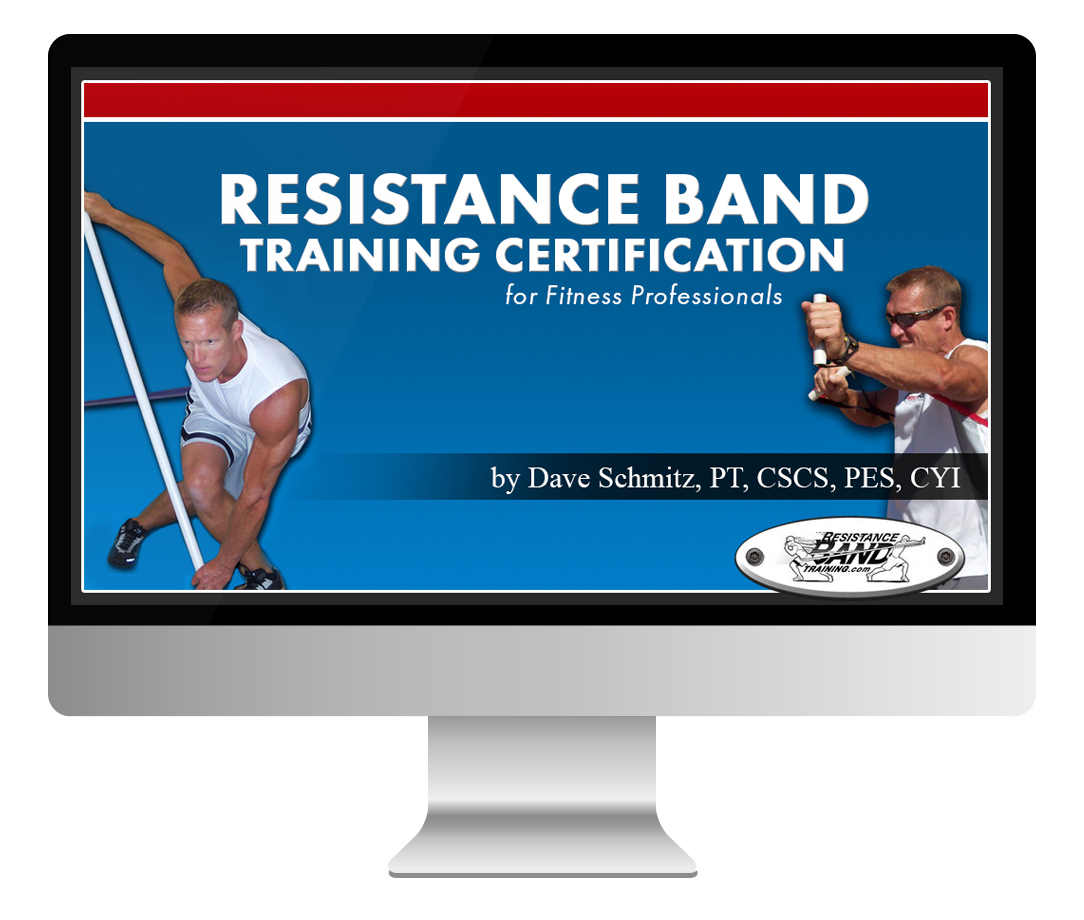 Dear Fellow Fitness Professional and Coach,
In the next few short minutes you'll discover how you can gain a competitive advantage over every other trainer and coach in your area helping your clients lose more fat, build more muscle and become better athletes by using one of the most popular training tools on the planet today!
Over the past few years we've seen a number of training tools enjoy their moment in the sun.  Some have merit, while others are nothing more than gimmicks designed to make the creators a quick buck.  But none of these training tools can equal the combined benefits of quality flat continuously looped resistance bands. For years resistance bands were consider a nice alternative to weight training.
Not anymore!!
Today Coaches, trainers, medical professionals, athletes and fitness enthusiasts have all become attracted and very excited about the diverse benefits that resistance bands can offer.
Benefits Like:
Their undeniable ability to build usable "Real World" strength and power
Their ability to strip away unwanted body fat  by implementing high intensity metabolic strength circuits
Their unlimited resistance potential and the ability to train anywhere, anytime, at any intensity by anybody
The countless ways they can be used to dramatically impact "all aspects" of fitness and performance conditioning not just strength
 A unique form of resistance and assistance that safely speeds up injury rehabilitation and yet can make the best athletes better
Plus, compared to virtually all other training tools, resistance bands are incredibly inexpensive, conveniently portable, and are not age or gender specific.
Which Would You Prefer To Carry Around?
It's really no wonder, or a surprise, that they've become the tool of choice for everyone from leading fitness professionals and strength coaches to stay at home moms and high performance athletes.
With this growing popularity, there's a rising demand for trainers and coaches to become educated and skilled on how to safely implement resistance bands. However, to date, all they have been provided is a mish mash of exercises that do not follow any logical or proven methodology or progression.
It's time to change that!!
Starting today you now have access to the only Resistance Band Certification program available in the world that will provide you as a fitness professional or coach with the depth of knowledge and the breadth of skills necessary to maximize the power of resistance band training.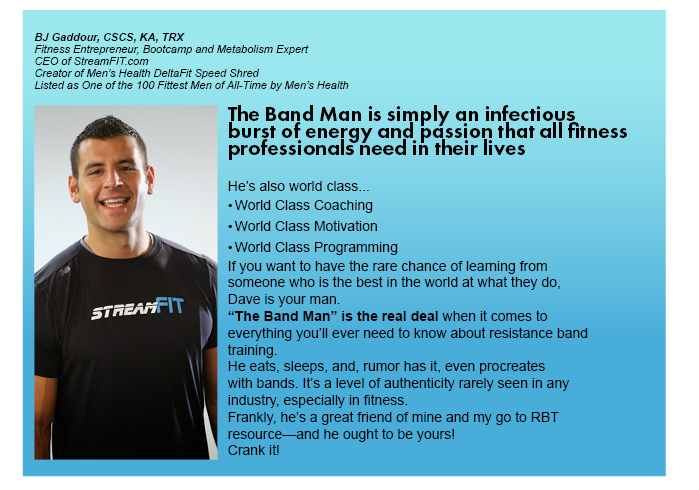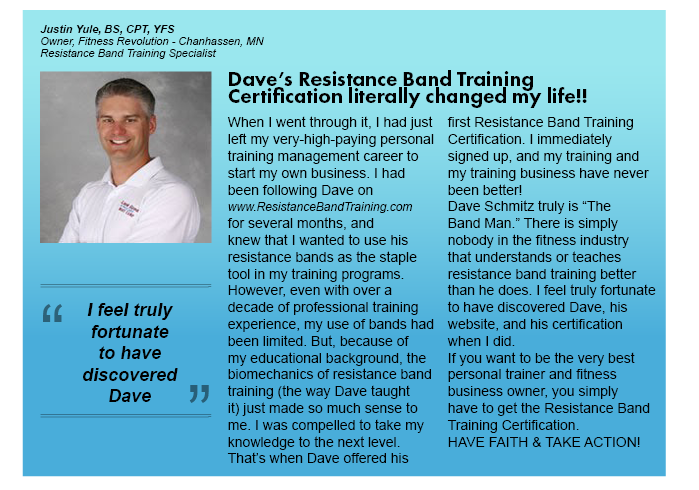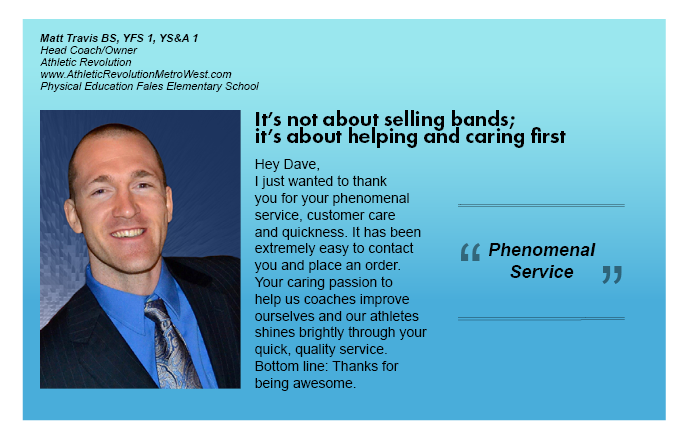 Introducing the
First
and
Only
Resistance Band Training Certification designed to make YOU a "Band Training Specialist" by empowering you with the teaching and training to create a
Competitive Band Advantage
while in the process getting
Your Own Game Back!!
I know how frustrating it can be to have to sift through all of the information out there and decide what works and what doesn't when it comes to training with bands. It's confusing and almost always leads to developing less than optimal results or programs.  What do you expect when to date bands were considered a nice "change of pace" or "a convenient alternative" to real weight-training.
As a result, most so called band users never come close to understand or maximizing their real potential.
But it's not your fault.
In 1996 I was probably just like you, trying to figure out why, how and when. Trust me, it's not your fault if all you have been given to date was a bunch of fun looking band exercises and left by yourself to figure out how not to hurt yourself or your clients while performing them. Heck, for about a year or so while first learning, I really wasn't sure if I was getting any benefit from hours of training with band, until one day it all started to come together. Since then the momentum has continued to exploding forward and I know it will be the same for you once you just have someone provide you the blueprint. There is no better feeling than your athletes and clients getting better in literally days, as a result of YOUR new band knowledge and skill.
It's what I mean when I say "Getting BETTER with BANDS!!"
Legacy of THE BAND MAN
Over the past decade I've become known as the "Band Man" due to my relentless study and use of bands to improve the performance of the athletes I've coached, enhance the results of the clients I've trained and accelerate the recovery of the patients I've worked with as a Physical Therapist
During this time I've probably worked with resistance bands more than any other professional on the planet and through volumes of research and my own trial and error, I've developed the premier resistance band training "system" available today. I know I wasn't the first guy to use bands but I am pretty sure I am the first to lay it out so you can now start building your own band legacy.
It's time to share my proven Resistance Band Training System with YOU and make sure you get your Band Training Advantage
Once you have completed the Resistance Band Training Certification YOU will have…
Mastered the fundamentals of training with bands so you can dramatically accelerate your clients functional results
Enhanced your teaching skills on dozens of powerful band exercises so you can fine tune your clients training approach and movement skills no matter if you're training 1 on 1, semi-private or in a boot camp of 50.
Gained a tool box full of beginner, intermediate and advanced exercises that will empower you to design programs that will deliver maximum "never   seen or felt" results in a minimum time for ALL of your clients.
Learned difference between training with bands versus just using bands
Discovered how to safely integrate bands into your program design regardless what tools you presently use 
Received a complete understanding of how to set up bands to support any program design you use and not force you to reinvent the wheel  
The ability to choose the best band for your training goals and facility while providing professionally based recommendations for your clients
The knowledge to create band training progressions and regressions instantly without having to change bands
The acute insight on how to avoid the hundreds of mistakes that trainers and coaches make when using bands
The understanding of how bands compare to free weights and why they are no longer an "alternative" but a "necessity" to getting better
Received the equivalent of a Master's Degree in Band Training and Program Design for any training environment
Discovered how to supercharge your clients' mobility and flexibility while eliminating nagging injuries by implementing a band flexibility program
Received detailed, thorough and clear instructional templates and done-for-you guides and workouts to make learning easier
This Certification isn't just theory or unproven ideas—it's practical, hands-on information that you will be applying with your clients, athletes, and patients the next day
I promise you:
There is NO other professional resistance band credentialing like this available today.
There is NO other certification that teaches you EXACTLY how to use a flat layered continuous looped resistance bands to get your clients and athletes fast results
There is NO Band Certification that covers everything from A to Z in a super easy to follow along format
And There is NO other band certification that literally holds YOUR hand through the entire process to ensure your success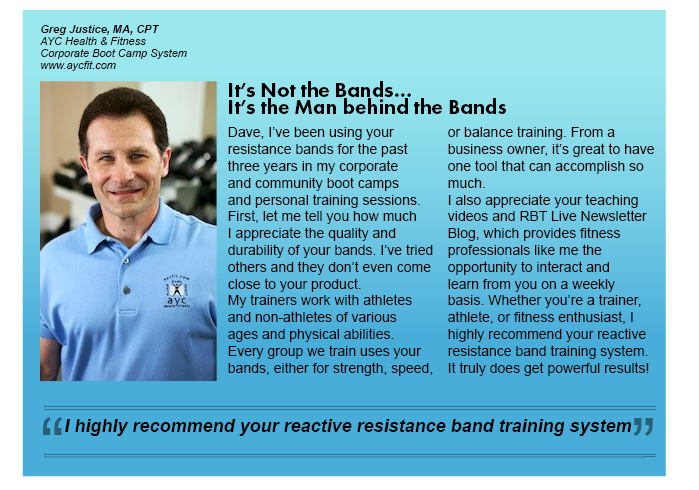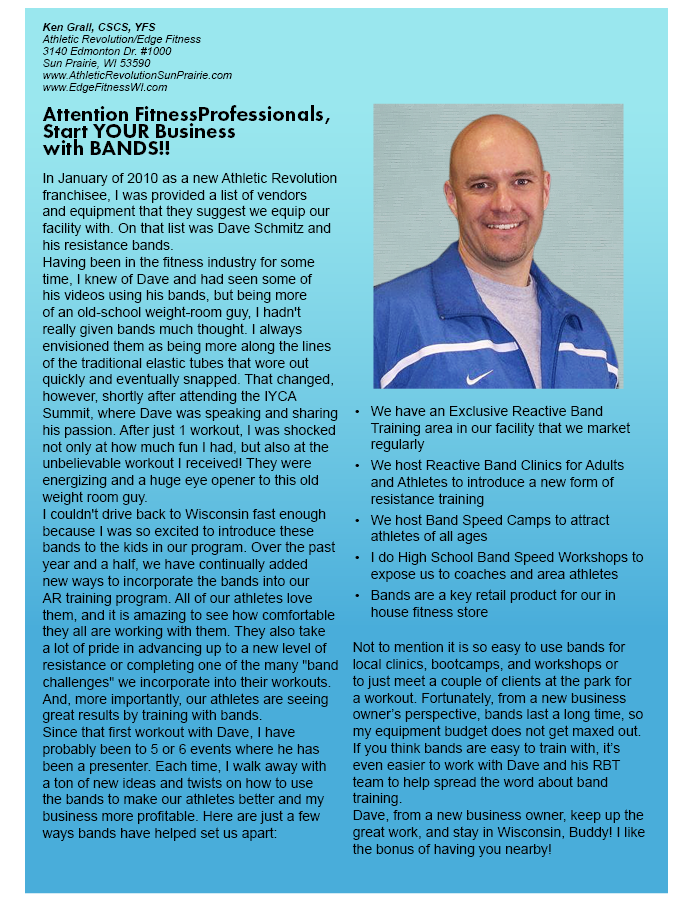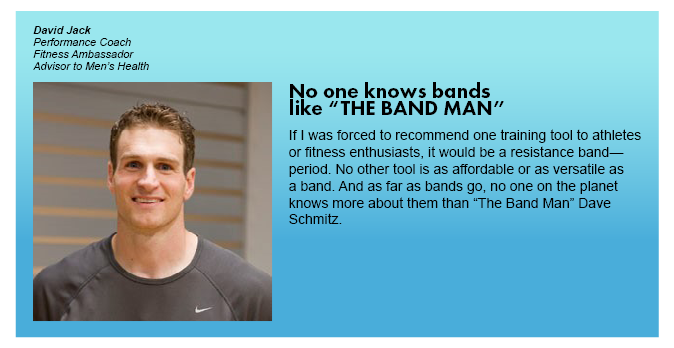 The Most Complete Resistance Band Training and Teaching Resource
Available Today
In case you had any doubt on how comprehensive this Resistance Band Training Certification is, here is the table of contents, taken directly from YOUR 200 plus page Certification Manual:
Table of Contents

Preface and Acknowledgements
Certification Objectives and Goals
How to Best Complete this Level I Certification
8
10
12

Bandology 101

Characteristics of Functional Movement
3 Rules of Function
How Resistance Band Training Impacts Function
Band Training vs. Dead Weight
A Band Is Not Just a Band
Real World Benefits of Resistance Band Training
15
20
22
24
29
32

Bands and Accessories

Standard Bands
Specialty Bands
Training Hurdles
Band Utility Straps
Choosing the Correct Bands
How to Modify Band Resistance
41
42
44
45
46
50

Resistance Band Training and Program Design

General Training Guidelines
Most Common Resistance Band Training Mistakes
53
56

Band Set-Up Options

Linking Bands
Hip Attachment
Grip Free Attachment
67
69
70

Attachment-Free Training

Single Band Bilateral
Double Band Bilateral
Single Band Unilateral
Behind the Back
Rack Position
Crossover Step
Single Band with Hurdles
71
72
73
74
75
77
78

Band-Attached Training

Vertical Bar
Band Strap Utility
79
80

Dynamic Stretching and Mobilization

Why Are We Tight?
How To Implement Band Flexibility Training
Level 1
Level 2
Level 3
Level 4
Additional Stretching Options
82
86
87
89
90
92
93

Program Design

Active Assisted – Active – Resisted
Stationary – Mobility – Integrated
Multiple Planes of Movement
Base of Support
Upper Body Movements
Changing Exercise Tempo
Workout Design Formats
Determining Sets and Reps
95
97
100
101
103
105
107
110

Resistance Band Training Exercise Index

How to Use the Exercise Index
Trunk Activation
Hip Activation
Scapular Activation
112
113
124
129

Attachment-Free Strength Training Exercises

Upper Torso
Lower Torso
1 Band – 2 Handles
Crossover Step
133
141
146
150

Band-Attached Strength Training Exercises

Upper Torso
Lower Torso
Locomotion Training
152
160
171

Partner Band Strength Training Exercises

Partner Band Guidelines for Group Training
Partner Holding and Set-up Options
How to Implement Attached Partner Training
partner Band Program Options
178
180
183
187

Setting Up Your Own Band Workouts

Automating Your Workouts
Creating Your Own Workouts
191
193

Appendix

Workout Templates
Done-For-You Workouts
Band Questionnaire
Dave's Bio
200
205
210
214
Plus, you'll also be receiving Comprehensive Training videos that will teach you the mechanics of effective training and programming with bands. Together with your Resistance Band Training Certification Manual, you will have the most comprehensive band training educational resource ever created…and a distinct competitive advantage over your competition.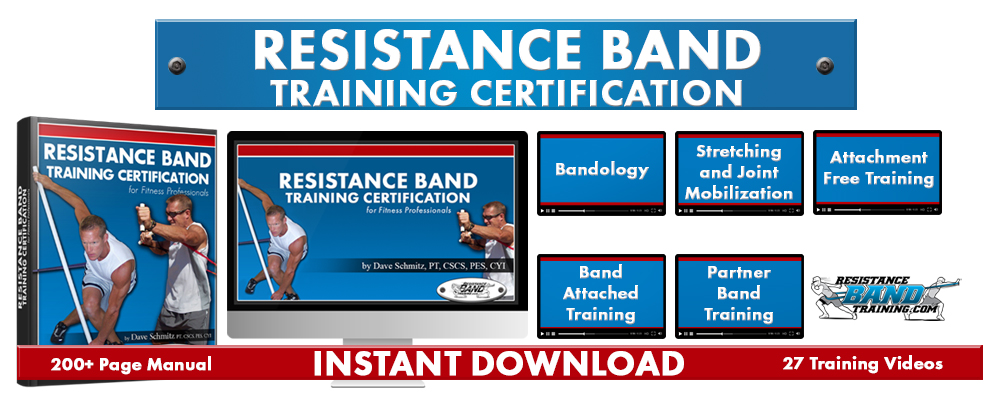 Learning is Always Easier In The Comfort Of Your Own Home
As much as I would like to personally teach you at a Live Event, it is not practical and, frankly, costs too much. Therefore, this entire certification will be ship directly to your mailbox.
NO Planes, No Waiting in Airports, No Rental Cars, No Hotels, No Schedule changes, No worries.
All you need to do once you receive all the resource information for this "Home" Certification is sit down, get comfortable, and start "Getting Better with Bands"
It Took Me YEARS To Learn What YOU Will Now Do In Weeks
I can't wait for you to get started learning! While I realize this certification comes with a certain level of risk, fortunately, I have a solution for that as well.
I'm so convinced that this is the standard bearer and benchmark for resistance band training education and training that, I'm going to offer you a full year to try it out with zero risk…
So if you're serious about helping your clients reach their goals utilizing the most versatile training tool on the planet, you must get started learning and earning your Resistance Band Credentials Today—or risk falling behind the competition.
Simply choose your package below to purchase the Resistance Band Training Certification. There's absolutely no risk to you. Try it out for a full year. You have my 100% no-excuses guarantee that you'll become a better trainer or coach.
If you don't agree that this Certification is all that I've said it is, you can send it back for a full refund.  No questions asked.
If you're ready to gain the competitive band advantage over every other trainer and coach in your area, and you're serious about dramatically improving your clients and athletes results, then I strongly recommend you take advantage of this limited-time opportunity today by clicking on the link below.
Become a Resistance Band Training Certified Specialist Today!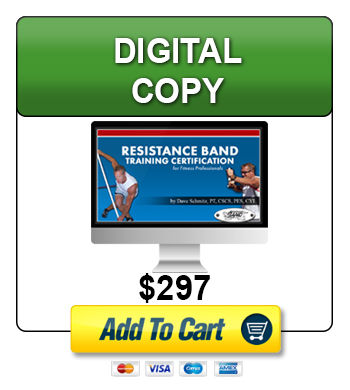 Getting Better with Bands,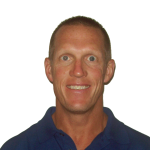 Dave "The Band Man" Schmitz
Founder of Resistance Band Training Systems
PS You are either improving or falling behind as a professional. There is no status quo. The Resistance Band Training Certification is your solution to stay one step ahead of the competition. If for some reason you don't agree, you have a full year to send it back for a full refund. I am taking all the risk. You have nothing to lose. Test drive the Resistance Band Training Certification for a full year by choosing your package below: